Coenzyme Q10 (or simply Q10) is a vitamin-like compound also called ubiquinone (the Latin 'ubi' means 'everywhere'). Bio-quinone Q10 Gold also contains vitamin C that supports normal energy additionally by reactivated. Q10 in the body The energy that is converted using cells from fat, carbohydrates, proteins and alcohol and stored in ATP molecules (adenosine triphosphate), which are to be regarded as the chemical form of energy. When the cell needs energy, it breaks the ATP molecules and thus releases the energy stored in the object. This whole process takes place in the mitochondria, bean-shaped structures in the cell. All mitochondria contain coenzyme Q10. Muscle cells have especially large amounts of energy, and then they also contain significantly more mitochondria than other types of cells. The heart muscle is a good example. The cells of the heart muscle contain many mitochondria in order to be able to produce for the powerful pump function sufficient energy.

Good sources of Q10
We get Q10 from different foods inside. To the best sources of the fabric include:
Offal
Meat
Herring
Soybean oil
Sardines
People are also able to make their own. Q10 in the body to However, this production, which takes place in the liver, decreases as we age, or due to diseases. According to experts, the Q10 production in the body between 20-25 years reached its peak, and then go back run.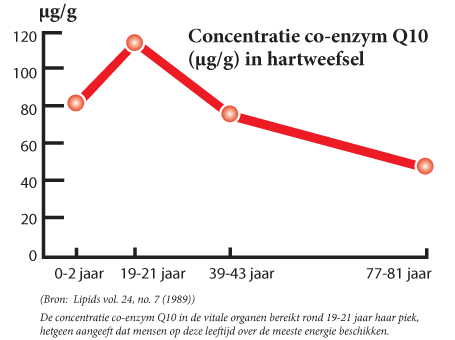 Science has not yet been able to determine exactly how much Q10 we ingest through food, but the estimate is about 5-20 mg per day. The body has a Q10-'buffer 'of about 1-1.5 g. The highest concentrations Q10 are found in the heart, the liver and the kidneys.